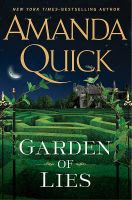 Available April 21, 2015, but can be pre-ordered now!
The New York Times bestselling author of Otherwise Engaged and The Mystery Woman presents an all-new novel of intrigue and murder set against the backdrop of Victorian London…
The Kern Secretarial Agency provides reliable professional services to its wealthy clientele, and Anne Clifton was one of the finest women in Ursula Kern's employ. But Miss Clifton has met an untimely end—and Ursula is convinced it was not due to natural causes.
Archaeologist and adventurer Slater Roxton thinks Mrs. Kern is off her head to meddle in such dangerous business. Nevertheless, he seems sensible enough to Ursula, though she does find herself unnerved by his self-possession and unreadable green-gold eyes…
If this mysterious widowed beauty insists on stirring the pot, Slater intends to remain close by as they venture into the dark side of polite society. Together they must reveal the identity of a killer—and to achieve their goal they may need to reveal their deepest secrets to each other as well…
Can be purchased in hardcover or eBook format for/from:




OTHERWISE ENGAGED
First Time in Paperback
Amanda Quick
The New York Times bestseller!
"Quick…has outdone herself with the 19th-century protagonist of Otherwise Engaged." —The Seattle Times
Miss Amity Doncaster, world traveler, is accustomed to adventure and risk. Benedict Stanbridge, a man of science and a spy for the Crown, has faced danger in the darker corners of foreign lands.
Now they are about to face a threat that is shockingly close to home…
One does not expect to be kidnapped on a London street in broad daylight. Yet Amity Doncaster barely escapes with her life after she is trapped in a carriage with the killer known in the press as the Bridegroom. He is unwholesomely obsessed by her scandalous connection to Benedict Stanbridge—gossip about their hours alone in a ship's stateroom seems to have crossed the Atlantic faster than any sailing vessel could. Benedict refuses to let this resourceful, daring woman suffer for her romantic link to him—as tenuous as it may be.
For a man and woman so skilled at disappearing, so at home in the exotic reaches of the globe, escape is always an option. But each intends to end the Bridegroom's reign of terror in London. And as they join forces and prepare to confront an unbalanced criminal in the heart of the city they love, they must also face feelings that neither can run from…
Can be purchased in mass market paperback or 05/14 eBook format for/from: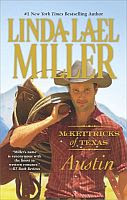 MCKETTRICKS OF TEXAS: AUSTIN (reissue)
McKettricks Series, Book 13
Linda Lael Miller
#1 New York Times bestseller Linda Lael Miller brings you the next installment in her unforgettable McKettricks of Texas series. The three McKettrick brothers meet their matches in the three Remington sisters, and now it's Austin's turn…
World champion rodeo star Austin McKettrick finally got bested by an angry bull. With his career over and his love life a mess, the lone maverick has nowhere to go when the hospital releases him…except back home to Blue River and the Silver Spur ranch. But his overachieving brothers won't allow this cowboy to brood in peace. They've even hired a nurse to speed his recovery. Paige Remington's bossy brand of TLC is driving him crazy. Not to mention her beautiful face, sexy figure and silky black hair.
Paige has lost count of the number of times Austin has tried to fire her. She's not going anywhere till he's healed—body and heart.
Originally published July 2010.
Can be purchased in mass market paperback or eBook format for/from: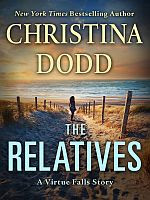 THE RELATIVES (eBook)
A Virtue Falls Story
Christina Dodd
New York Times Bestseller Christina Dodd brings you an all-new e-short story in her acclaimed Virtue Fallssuspense series with…THE RELATIVES!
What would you do when uninvited relatives drop by your home and stay … and stay … and stay?