=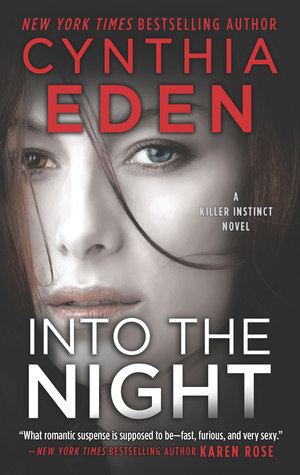 Synopsis:
Two FBI agents are caught in a merciless vigilante's crosshairs in New York Times bestselling author Cynthia Eden's electric Killer Instinct series
Lives will be ravaged as two FBI agents confront a mastermind serial murderer in New York Times bestselling author Cynthia Eden's new Killer Instinct novel
Sheltered in the shadows of the Smoky Mountains is the suspect who's summoned FBI agent Macey Night's fears to the surface. Every day that the "Profiler," a vigilante serial killer, escapes justice is another day she's reminded of what it is to be a ruthless predator's prey. Capturing him is a craving deeper than anything she's felt in a long time. But Agent Bowen Murphy, equal parts sexy and volatile, seems hell-bent on changing that. Working together—needing, living, and breathing each other—they're entwined to distraction.
Bowen's used to operating on impulse: act, don't feel. Now Macey and the controlled terror behind her beautiful eyes has him rethinking everything, including his rule to never get close to a colleague. He's willing to fight for a future with Macey, but the consequences of love could be deadly.
Rating: 5-stars
Review: 
Into the Night by Cynthia Eden is a dark romantic suspense that both entices and frightens at the same time. Her writing brings to life the haunting scenes depicted on every page. The serial killers work and their own death by serial killer hunters. The hunters becoming the prey was both a relief and a nightmare at the same time. These serial killers that were caught had to be very good at not being caught so their executioners had to have better skills and knowledge than them. That's what chilled my spine as I kept on reading.
This FBI unit has a lot of backgrounds in dealing with serial killers. Each team member has had their own personal experience with a serial killer killing them or someone close to them. Each one managed to survive their nightmares. Now, they work together in bringing others like their serial killers to capture. Yet, what they don't know is that one of them might not be who they think…
Imagine working closely with an intelligent individual that you are supposed to trust with your life, only to find out that person's real identity…
I really enjoyed getting to meet, Macey. She was the main leading female protagonist in this story. Her past included being scarred by a serial killer. Macey was once a doctor and now, she lives fighting to catch her killer and others like him.
Bowen is captivating. He's another member of the FBI unit. His history is darker than others. Bowen was once engaged to his best friend,  who died and was manipulated by a serial killer online. Bowen couldn't wait for the police to catch the bastard. So, he went out for the killer himself. That soon made him a hero and made him feel like a killer. Bowen soon lands as an agent wit the unit and falls instantly for the strong yet beautiful agent Macey. But as partners, he can't get involved with her…
Until, a case leads them both closer together than they would have dared to dream.
Macey and Bowen are being manipulated and tested by a serial killer or more than one…and catching the bad guys is their main focus. But then, when they are injured it takes everything in their will power to fight what they have for one another.
Overall, Into the Night is a stunning thriller. I enjoyed following this cast of characters from the beginning. Their worst fears, dreams, and hope kept me intrigued. I was instantly hooked with this novel. Cynthia Eden has proved herself as a worthy writer. I look forward to reading more of her work in the future. I highly recommend this book to all.