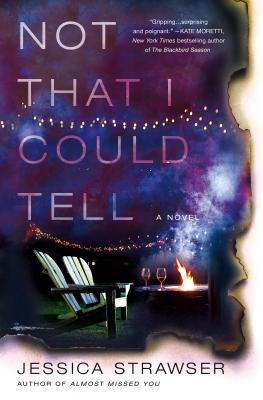 Synopsis: 
When a group of neighborhood women gathers, wine in hand, around a fire pit where their backyards meet one Saturday night, most of them are just ecstatic to have discovered that their baby monitors reach that far. It's a rare kid-free night, and they're giddy with it. They drink too much, and the conversation turns personal.
By Monday morning, one of them is gone.
Everyone knows something about everyone else in the quirky small Ohio town of Yellow Springs, but no one can make sense of the disappearance. Kristin was a sociable twin mom, college administrator, and doctor's wife who didn't seem all that bothered by her impending divorce—and the investigation turns up more questions than answers, with her husband, Paul, at the center. For her closest neighbor, Clara, the incident triggers memories she thought she'd put behind her—and when she's unable to extract herself from the widening circle of scrutiny, her own suspicions quickly grow. But the neighborhood's newest addition, Izzy, is determined not to jump to any conclusions—especially since she's dealing with a crisis of her own.
As the police investigation goes from a media circus to a cold case, the neighbors are forced to reexamine what's going on behind their own closed doors—and to ask how well anyone really knows anyone else.
Rating: 4-stars
Review:
Not that I Could Tell by Jessica Strawser is one of the most intriguing drama mysteries that I've read. This was similar to Pretty Little Liars and Big Little Lies. A lot of deception is found, here on the pages. Just when the characters think they know everything, their neighborhood gets shaken upside down.  Secrets, drama, and mystery were combined making this a page turner. I was deeply engrossed with the characters' lives and how they were connected. My curiosity was snatched immediately by this writer.
A group of women sit outside, sipping their wine. Too much to drink, and one of them disappeared. Nobody knows what happened to their missing neighbor or why. Kristen seemed to have the perfect life and a divorce that was just about closed, when she was found missing.
The ending was sort of surprising in a way, but I kind of predicted  what was going to happen. It felt like the same kind of plot as other books but on a grown adult level. The story was easy to get lost within…but like I said it was predictable in many ways due to similarities. Otherwise, great mystery novel.