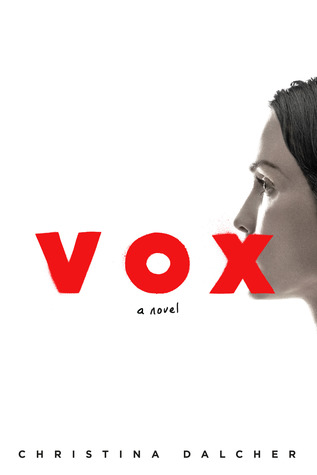 Synopsis:
Set in an America where half the population has been silenced, VOX is the harrowing, unforgettable story of what one woman will do to protect herself and her daughter.
On the day the government decrees that women are no longer allowed more than 100 words daily, Dr. Jean McClellan is in denial–this can't happen here. Not in America. Not to her.
This is just the beginning.
Soon women can no longer hold jobs. Girls are no longer taught to read or write. Females no longer have a voice. Before, the average person spoke sixteen thousand words a day, but now women only have one hundred to make themselves heard.
But this is not the end. 
For herself, her daughter, and every woman silenced, Jean will reclaim her voice.
Rating: 5-stars
Review:
Vox by Christina Dalcher is one of the saddest yet most intense novellas I have read. A quick read that kept me interested. Intriguing and dark, this book held my full attention. It started off with a woman and her young daughter are wearing devices. These devices count the number of words they say. Reach over 101 words, and they go through a shock system from the device. It was a hell hole that the women and young girls couldn't control. A law went into act and they're forced to being just housewifes. No voice. No opinion. I felt the tears that ran down my cheeks. The pages created a rage unlike anything I have felt. This story is one that must be read. The warning for women, is to never let your voice by controlled. Fight back!