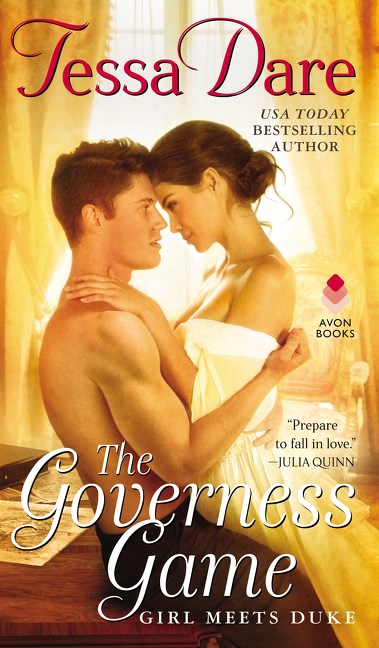 Synopsis:
The second unforgettable novel in USA Today bestselling author Tessa Dare's Girl Meets Duke series.
He's been a bad, bad rake—and it takes a governess to teach him a lesson.
The accidental governess…
After her livelihood slips through her fingers, Alexandra Mountbatten takes on an impossible post: transforming a pair of wild orphans into proper young ladies. However, the girls don't need discipline. They need a loving home. Try telling that to their guardian, Chase Reynaud: duke's heir in the streets and devil in the sheets. The ladies of London have tried—and failed—to make him settle down. Somehow, Alexandra must reach his heart… without risking her own.
The infamous rake…
Like any self-respecting libertine, Chase lives by one rule: no attachments. When a stubborn little governess tries to reform him, he decides to give her an education—in pleasure. That should prove he can't be tamed. But Alexandra is more than he bargained for: clever, perceptive, passionate. She refuses to see him as a lost cause. Soon the walls around Chase's heart are crumbling… and he's in danger of falling, hard.
Rating: 5-stars
Review:
Tessa Dare has captured my whole heart and soul with this read. I was swept up by the bad guy rep who cares more than he admits about his two little wards. I was amazed that such a playboy could be so sweet. I felt myself melt into puddles every time! Chase thought his was not responsible enough for the girls. Two family members lost their mother was were moved from place to place. No one wanting them. Until Chase…He takes them in despite their bad behavior. There's more to their behavior than Chase can see. When a sexy clock worker is taken under his care to be the governess, Chase cannot resist her. Alex met Chase in a bookstore. He obviously doesn't remember her at all. Despite feeling so invisible, Alex takes care of her charges. Both little girls managed to wrap their ways around Alex's, Chase's, and my heart. Trouble, mischief, humor, action, and love are filled in this heart melting book. I could not stop reading, The Governess Game.