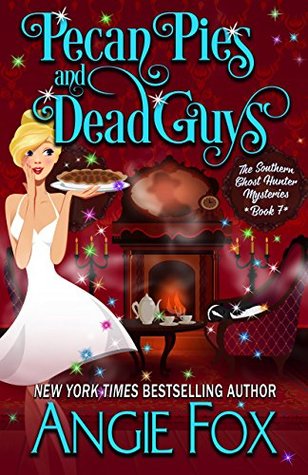 Synopsis:
Sometimes Verity Long would like to forget that she lives with the ghost of a 1920s gangster. But the reluctant housemates must once again work together when a dead detective blackmails Frankie into helping him solve a Great Gatsby-era cold case. Before she can say "bathtub gin," Verity is dragged straight into a raging, otherworldly house party. Worse, every guest is hiding something.
Meanwhile, Ellis Wydell, Verity's living, breathing boyfriend needs Verity's help with a police case of his own. After a dead body is discovered near the pecan orchard, Verity gives her insights, thinking her job is done. But when mysterious pecan pies start arriving at her house, she wonders who might be thanking her… or stalking her.
Between hard-living ghosts and sugar-laden desserts, Verity has her work cut out for her. But will she uncover the secrets behind the pecan pies and dead guys? Or has she stumbled upon a recipe for disaster?
A warm and witty paranormal cozy mystery!
Rating: 4.5-stars
Review:
Pecan Pies and Dead Guys by Angie Fox is another brilliant cozy mystery. I was swept back up into Verity Long's ghost solving mystery series. Joining her, I was again introduced to the 1920's ghost gangster that makes me laugh so hard. I cannot help from laughing where, Frankie is concerned. Then, there's Verity's handsome copy boyfriend who is still at her side despite his mother's attempts to separate them. And last but not least, is the newest cast member. A new ghost, who is a detective. He still treats Verity like a stupid female human being. But she's really the mastermind behind solving the crimes of murder. With Frankie's help, Verity should solve the new murders with an ease. However, one crime scene is missing a ghost. The other is from the past and needs solving quick before it disappears again. Overall, I love the cast of characters. The ghosts add spice and humor. The humans are a mystery and keep things interesting. Angie Fox sure knows how to create a stunning mystery novel.