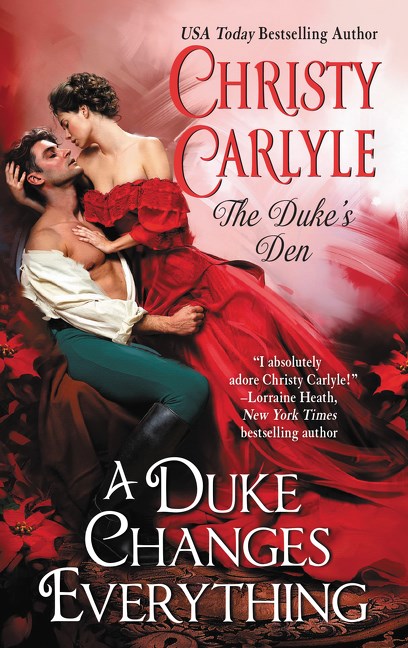 Synopsis:
In the first novel in Christy Carlyle's sizzling Duke's Den series, three men, intent on making a fortune, discover irresistible opportunities . . .
Nicholas Lyon gambled his way into a fortune and ownership of the most opulent, notorious gentlemen's club in England. But when Nick's cruel brother dies, he inherits a title he never wanted. The sooner Nick is rid of the estate that has always haunted him, the sooner he can return to the life he's built in London. But there's one obstacle—the exquisite Thomasina Thorne.
When the new heir to the Tremayne dukedom suddenly appears in Mina Thorne's life, she's flustered. Not only is he breathtakingly handsome, but he's also determined to take away her home and position as steward of the Enderley estate. If Mina learns what makes the enigmatic duke tick, perhaps she can change his mind—as long as she doesn't get too close to him.
With each day Nick spends with Mina, his resolve weakens as their colliding wills lead to explosive desire. Could she be the one woman who can help him finally bury the ghosts of his past?
Rating: 5-stars
Review:
A Duke Changes Everything by Christy Carlyle is a fun yet charming historical. Full of surprises, I never knew what to expect next. This was my first novel read by Christy Carlyle. Her writing brought humor and excitement off the pages. I loved it. The heroine in this novel, was bold. But she still held a heart of gold. Her dedication to helping others in need was evident from the beginning. Who knew she would end up saving a notorious Duke from a life of misery. That same Duke saves her, too. It was hard to resist these characters. Their banters and wicked insinuations made for an entertaining tale. The pages held so much action, I never felt a moment of boredom.
A young female stewardess, is tasked with a falling apart castle. Until the new Duke arrives, her world is turned upside down. Mina feels responsible for her staff's jobs. Jobs mean security. Without that, none of them could survive.
A man born to a cruel father, is forced to face his demons once more. Returning to the home that was nothing but torments of hell, Nick is all about selling it. That was, until he met Mina. The hellion woman beckons him in like siren.
I felt so much sympathy for the scarred man. A man who was abused when he was younger. Treated like hell by a father who should have loved him. He only had his mother's love. Nick hid his fears and demons from everyone. Yet being home again, and with Mina, brings all the emotions back to surface. It was an epic journey. The emotional rollercoaster had me all in for this Duke. Overall, I would recommend this historical romance to readers everywhere.