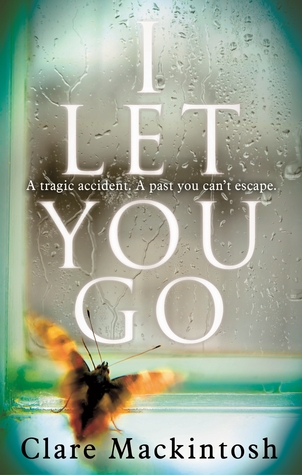 Synopsis:
A tragic accident. It all happened so quickly. She couldn't have prevented it. Could she?
In a split second, Jenna Gray's world descends into a nightmare. Her only hope of moving on is to walk away from everything she knows to start afresh. Desperate to escape, Jenna moves to a remote cottage on the Welsh coast, but she is haunted by her fears, her grief and her memories of a cruel November night that changed her life forever.
Slowly, Jenna begins to glimpse the potential for happiness in her future. But her past is about to catch up with her, and the consequences will be devastating . . .
Rating: 4-stars
Review:
I Let You Go by Clare MacKintosh is a haunting read. I felt an instant connection to the main character, Jenna. A young woman whose newly wedded husband attacks her. He abuses her the way no man should abuse his wife. Yet she lets him get away with it. So many times, he abuses her. Jenna is lucky to still be alive. She lost so much, a future of happiness, safety, independence, and her only son. The emotional rollercoaster for her included watching in horror as her husband forced her to watch as he ran over a boy. Not just any boy. A boy who was connected to him more ways than Jenna ever knew. Jenna presently was going to take the murder charge for the dead boy. But that's when the police realize she didn't do it. There was more to the story than to the general audience. Intriguing, dark, and heartbreaking, I Let You Go was addictive. The story brought to life what those who were abused go through daily. The fear, danger, and risks felt so real.