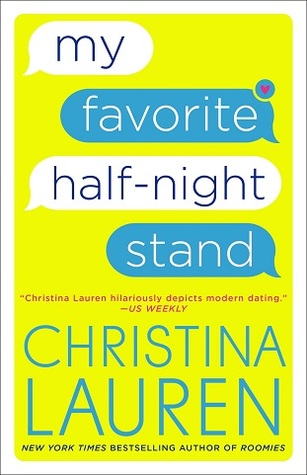 Synopsis:
By the New York Times bestselling author who "hilariously depicts modern dating" (Us Weekly), My Favorite Half-Night Stand is a laugh-out-loud romp through online dating and its many, many fails.
Millie Morris has always been one of the guys. A UC Santa Barbara professor, she's a female-serial-killer expert who's quick with a deflection joke and terrible at getting personal. And she, just like her four best guy friends and fellow professors, is perma-single.
So when a routine university function turns into a black tie gala, Mille and her circle make a pact that they'll join an online dating service to find plus-ones for the event. There's only one hitch: after making the pact, Millie and one of the guys, Reid Campbell, secretly spend the sexiest half-night of their lives together, but mutually decide the friendship would be better off strictly platonic.
But online dating isn't for the faint of heart. While the guys are inundated with quality matches and potential dates, Millie's first profile attempt garners nothing but dick pics and creepers. Enter "Catherine"—Millie's fictional profile persona, in whose make-believe shoes she can be more vulnerable than she's ever been in person. Soon "Catherine" and Reid strike up a digital pen-pal-ship…but Millie can't resist temptation in real life, either. Soon, Millie will have to face her worst fear—intimacy—or risk losing her best friend, forever.
Perfect for fans of Roxanne and She's the Man, Christina Lauren's latest romantic comedy is full of mistaken identities, hijinks, and a classic love story with a modern twist. Funny and fresh, you'll want to swipe right on My Favorite Half-Night Stand.
Rating: 5-stars
Review:
My Favorite Half-Night Stand by Christina Lauren is a must read book. Every woman out there would enjoy this title. It contains humor, entertainment, and an emotional rollercoaster ride to enjoy. The plot explores the boundaries of friendships. Friends with benefits turns into this side that many don't see. I loved how light hearted the whole journey was. The characters were at this point where their attraction came out and then were not sure where to go from there. New territory with new consequences. The whole best friends to lovers journey was filled with sweet, funny, and bits of sad moments. As the pair worked their way through their emotions and attraction, I found myself loving them. Quirky, clever, and realistic-that's the type characters I met. They blended together well.
In My Favorite Half-Night Stand, it started out with a group of friends making a pact. To try an online dating app. But at first their profiles suck and their only lady friend of the group rewrites their bios. It showed major improvements. Only when it came to hers, did they not feel too shy about saying it sucked. Feeling determined, Millie created a new profile. She didn't send the new profile to her friends. However, this time, she gets matched to her best guy friend. The good looking, funny, and always there for her guy friend. Millie thinking it was funny, added him to her app profile and she sends him a message that will tell him it's her. Reid gets a message from a mysterious woman who reminds him so much of Millie. Millie is the ideal woman for him. But she closes herself off when it comes to emotions. Reid wants her to be able to share and tell him things…only that's a hard step forward for Millie. She's not used to opening up. This leads to them both doing things neither thought they would. Actions lead to consequences and maybe, a happy ending. If it works out…but both have to be willing to risk their hearts.