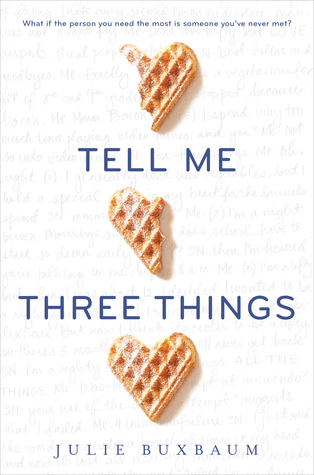 Synopsis:
Everything about Jessie is wrong. At least, that's what it feels like during her first week of junior year at her new ultra-intimidating prep school in Los Angeles. Just when she's thinking about hightailing it back to Chicago, she gets an email from a person calling themselves Somebody/Nobody (SN for short), offering to help her navigate the wilds of Wood Valley High School. Is it an elaborate hoax? Or can she rely on SN for some much-needed help?
It's been barely two years since her mother's death, and because her father eloped with a woman he met online, Jessie has been forced to move across the country to live with her stepmonster and her pretentious teenage son.
In a leap of faith—or an act of complete desperation—Jessie begins to rely on SN, and SN quickly becomes her lifeline and closest ally. Jessie can't help wanting to meet SN in person. But are some mysteries better left unsolved?
Rating: 5-stars
Review:
Emotionally charged…
Tell Me Three Things by Julie Buxbaum is about two young people both suffering grief within their families. They end up finding a way to cope through it all. One of them, decided to reach out to the other one via email. Keeping his anonymity, they messaged each other every day about everything. As the book moved forward, the leading female protagonist ends up really liking this guy Ethan. He makes her so happy and she can't resist him. She ends up overthinking about him being SN. The guy who mysteriously emails her every day. But she's not too sure and that is making her go crazy. Sad, funny, and absolutely charming-I fell in love with this YA novel. I highly recommend it to all readers.