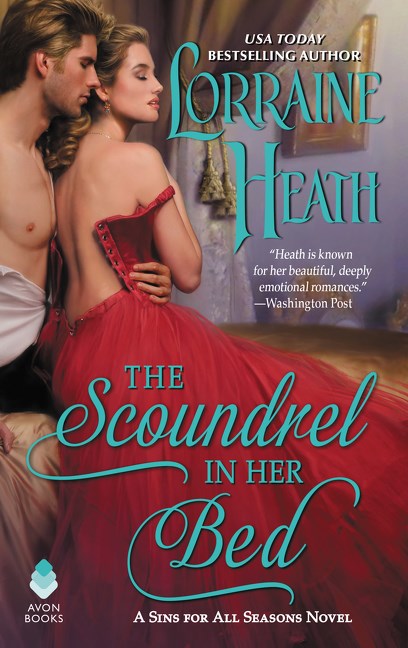 Synopsis:
The third electrifying romance in Lorraine Heath's USA Today bestselling Sins of all Seasons series.
The bastard son of a nobleman, Finn Trewlove was a shameful secret raised by a stranger. As Finn came of age he had secrets, too–the clandestine nights spent with an earl's daughter. But her promise of forever ended in betrayal.
Driven by a past that haunts her, Lady Lavinia Kent seeks redemption in London's underworld, engaged in a daring cause inspired by the young man to whom she gave her innocence, and who then proved himself a scoundrel by abandoning her.
When their paths cross again, they can't deny the yearning and desire that still burns. As they discover the truth behind the deceptions that tore them apart, Finn and Lavinia must fight to reclaim what they've lost, no matter how dangerous—because love is worth the risk….
Rating: 5-stars
Review:
The Scoundrel in Her Bed by Lorraine Heath was out of this world good. I instantly felt the stab of pain and quick liking to the main protagonist. Lavinia made a choice and the result of it tore her apart. Her own mother took her newborn baby away from her. Never seeing the baby, crushed her. I felt a pull to Lavinia and wanted to befriend her immediately. She's bold, smart, but a good woman overall. Lavinia fell passionately for a young man, Finn. But she was betrayed and hurt.
Finn has an interesting backstory. That tied in with the beginning of the book nicely. He had this determined attitude to seek what he wants and go all out for it. Including Lavinia. She captured him unlike any other woman. But she betrayed him and in doing so, destroyed a part of him that day.
Lorraine Heath brilliantly captured the society of the time period. I felt the pain, loss, and abandonment of breaking rules did to the characters. Their journey had me chained to the book eager for more. The emotional entanglement was done just right. I cried, laughed, loved, feared, and hoped right along with the characters. This historical romance came alive the moment I opened it. Overall, I highly recommend it to all.