Read on for an excerpt: 
Camden Grayson took the turn into her dad's driveway a little fast. She was never late to
anything—­except when it came to family events. Like this one. She threw the car into park, grabbed the key, and instead of jumping out, she leaned back against the headrest, squeezed her eyes shut, and took in a deep breath. Just one minute. Give me just one minute of peace.
Instead, her cell phone chirped a text. She groaned, then glanced at it.
Blaine 
WHERE ARE YOU?
Her sister always texted in full caps, her version of acceptable shouting. Cam blew out an angry breath as she pushed open the car door. From the yard across the street came the happy shrieks of children playing and a dog barking, but she focused on her dad's front door, the landscaping, the new trim on the windows, anything but that house across the street. Three years later and she still couldn't bring herself to look at it, with its floodgate of pain.
The front door was unlocked. She hurried inside to the living
room, where her dad and sisters were waiting.
"Sorry! I know I'm late, and I can't stay long. I left Cooper with my neighbor."
Dad disspelled her frenetic arrival with a friendly wave.
"Not a problem," he said in his scratchy voice. "I haven't gotten started yet."
Cam exchanged a puzzled look with Maddie, then they both turned to Blaine. Their youngest sister's chin was tucked to her chest as she texted rapidly on her phone with both thumbs. Typical Blaine. Was I like that when I was nineteen? No, Cam decided. She had no time to be.
A week ago, Dad had asked all three girls to come to the house on Sunday afternoon. He gave no explanation, only that he'd tell them everything then. As Cam sat down on the edge of the sofa, she glanced at her dad, wondering what to expect. He seemed more rested than he had on her last visit home—­was it in January?—­his face wasn't as lined or careworn. In fact, she realized, he wasn't bad looking for a man of his age, fit and trim, with graying hair.
"Girls, I have an announcement."
Cam leaned forward, bracing herself for serious news. Her dad had seen one specialist after the other, trying to get his voice back in working order. Over Christmas, he'd had a severe case of laryngitis and his vocal cords had never recovered. His normal speaking voice wasn't much more than a hoarse whisper. Maddie had already given them a list of dreaded possibilities: nodules, tumors, cancer.
"Blaine, put away your phone. On silent, please."
They all watched and waited as she finished her text, sent it, and put her phone in her purse.
Dad's eyebrows lifted as he inhaled a deep breath and let it out. "I sold the house."
Cam, Maddie, and Blaine looked at each other, then back at their father. That was the last thing Cam had expected. This house? Their childhood home, filled with sentiment. And stuff. And memories of Mom.
He wasn't finished. "And . . . I bought an island."
Synopsis:
When her father buys an island off the coast of Maine with the hope of breathing new life into it, Camden Grayson thinks hes lost his mind. An unexpected event sends Cam to his rescue, and she discovers the island has its own way of living . . . and loving.
Rating: 4-stars
Review:
On a Summer Tide by Suzanne Woods Fisher is full of surprises. Second chances is what this story is about. Forgiveness, love, hope, and family are the other themes. It  was heartfelt and deep. I felt Cam's struggles the moment she found out about her dad's decision and then the ones that happened while on the island. So much love and hope fill the pages. Some things start out slow and gradually build to a fiery heat that neither one can deny. Cam and her new friend Seth have a lot to learn and to discover about themselves. Friendships, laughter, an unexpected events pull this cast of characters in flawlesslessly. I felt pulled into their story. What started off to being a family situation needing fixing led to that and much more. A romance also blossomed here. The whole novel was beautifully told. It was realistic. Suzanne Woods Fisher made me feel like I was there for it all. Overall, it was a great read.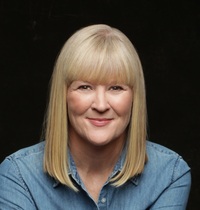 About the Author
Suzanne Woods Fisher is an award-winning, bestselling author of more than thirty books, including Mending Fences, as well as the Nantucket Legacy, Amish Beginnings, The Bishop's Family, and The Inn at Eagle Hill series, among other novels. She is also the author of several nonfiction books about the Amish, including Amish Peace and The Heart of the Amish. She lives in California. Learn more at www.suzannewoodsfisher.com and follow Suzanne on Facebook @SuzanneWoodsFisherAuthor and Twitter @suzannewfisher.
Author Interview
You are well known for both your fiction and nonfiction books about the Amish and the Quakers. You are now introducing readers to a brand-new contemporary romance series in On a Summer Tide. What motivated you to try a new genre?
I've enjoyed writing about communities of faith, both contemporary and historical, yet there's something challenging about writing for a new audience. As I started to map out On a Summer Tide, it felt a little funny to not have the constraints of an Amish or Quaker community—like driving on a narrow road without guardrails. I gripped the steering wheel tightly as first, but as I grew more comfortable, I finally relaxed . . . and then I loved it!
Can you provide a brief description of On a Summer Tide?
Three sisters are reeling from their dad's sudden decision to sell their childhood home and purchase a summer camp off the coast of Maine. They assume their dad is suffering from dementia, but he has a clever plan: to use this remote island to bring the family back together. It's a little tricky, as all three girls have lives of their own and no interest in moving to Maine.
On a Summer Tide is the first book in the Three Sisters Island series. Each of the books in the series tells the story of one of the three Grayson sisters, starting with Camden Grayson. Can you describe your main character?
Cam Grayson runs at one speed: fast. She works hard at a start-up company, travels extensively, and thrives on challenge. Change is easy for her, but difficult for her little boy, Cooper.
In addition to Camden Grayson, you are introducing your readers to a whole new cast of characters. Do you have a favorite character?
Peg is a local who runs the Lunch Counter, a tacky diner, on Three Sisters Island. An hour or two in Peg's company, and customers leave cheered up for the rest of the day. We could all use Peg in our lives.
Three Sisters Island is set off the coast of Maine. Why did you decide to use this location?
It's an ideal setting, full of natural beauty and quirky characters. There are more than 3,000 islands off Maine—and every island has a story.
What type of research was required to write On a Summer Tide?
My dad went to Bowdoin College in Brunswick, and I've traveled to Maine more than a few times. This last summer, after reading and studying about the coast, I spent time canvassing the area where my fictitious island would be, doing the things that my characters would do. One example: watching the sunrise on Cadillac Mountain, just the way Cam and Seth did.
What do you hope readers will learn from your book?
In every book I write, I hope readers will invite God into the conversation of their lives. Just invite Him in.
How can readers connect with you?
Readers can visit my website at www.suzannewoodsfisher.com or they can follow me on Facebook @SuzanneWoodsFisherAuthor or on Twitter @suzannewfisher.