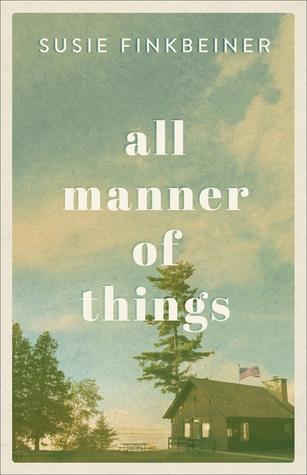 Synopsis:
When Annie Jacobson's brother Mike enlists as a medic in the Army in 1967, he hands her a piece of paper with the address of their long-estranged father. If anything should happen to him in Vietnam, Mike says, Annie must let their father know.
In Mike's absence, their father returns to face tragedy at home, adding an extra measure of complication to an already tense time. As they work toward healing and pray fervently for Mike's safety overseas, letter by letter the Jacobsons must find a way to pull together as a family, regardless of past hurts. In the tumult of this time, Annie and her family grapple with the tension of holding both hope and grief in the same hand, even as they learn to turn to the One who binds the wounds of the brokenhearted.
Author Susie Finkbeiner invites you into the Jacobson family's home and hearts during a time in which the chaos of the outside world touched their small community in ways they never imagined.
Rating: 5-stars
Review:
All Manner of Things by Susie Finkbeiner is a gripping read. The pages held my heart and mind. Many times, my heart had broken for this family. War is toxic on family life. It changed everything. Broke, destroyed, and torn apart, many families barely held on. The Jacobson family featured here, was one of those families. The time period was carefully yet accurately displayed page after page. The plot was unpredictable. This writer created a sense of dread of what readers, like me, would assume turn for the worst. The emotional damn I had been holding in during the first half let loose. I felt what the characters felt. This book was deep, engaging, and action packed. Susie Finkbeiner kept the theme of hope, faith, and family alive. All I can say, is this novel was beautifully written. Readers will need a tissue box when reading this book.